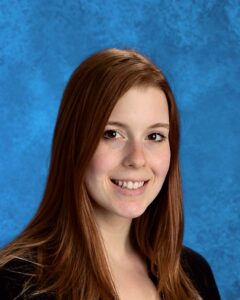 Introduce yourself and the courses you teach. What, in your opinion, is the best thing about being a teacher at Centennial Academy?
My name is Bianca Ambrosino and I teach Visual Arts, Multimedia and as well as facilitate the Robotics and Programming club. In my opinion, the best thing about being a teacher at Centennial Academy is teaching new creative concepts to my students every day.
[/row]
What are the top 3 things that you think make Centennial Academy unique?
Centennial's UDL approach
Our structured routines that help students become autonomous learners
The skills we teach our students to help them become resilient
Tell me about one of your favorite teaching memories/story?
My favorite teaching memory at Centennial is when my grade 9 classroom used Photoshop to create a deck of cards as a class in a unit called "52 Pickup". The project required independent work, group discussion and the use of new techniques. I will always remember when I would hear students excitedly say "I get it! It worked!" as they attempted an especially difficult technique.
What do you think your students like the most about you?
I think my students like that I am passionate about the subjects I teach. I show my enthusiasm by ensuring that I take the time to explain concepts and techniques to them until they are confident with their abilities.
Describe a typical classroom experience or a typical day at Centennial?
A typical day at a Centennial Visual arts or Multimedia class is separated into five parts.
Every class starts with a warm up routine called the "Daily Doodle", a type of activity that allows students to practice spontaneity in arts by drawing an image of the theme given that day. Following this, instructions and demonstrations would be given based on what project they are working on. Students are then given the majority of the class for independent work. Finally, class time ends with cleaning up their materials and an artistic reflection as they prepare for their next class.
Describe in your own words the Centennial Academy Approach and how UDL really works.
We approach learning in various ways, understanding that not every student can fit into a single mould. By using the UDL approach, our team offers multiple ways to engage in content in a manner that works best for the student! In an art class, this means having the opportunity to learn using visual, kinesthetic and auditory tools, while participating in projects that practice interpersonal and intrapersonal skills.